The Gap Theory Page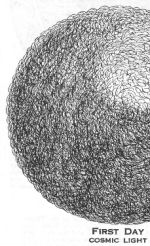 Welcome to the gap theory page.
There has been so much separation over who is right and who is wrong, that it tear on the word of God, people dont seem to believe that Jesus says we are to be one with one another, and that this is not a subject like salvation we here are talking about, but a view of Gods word, which might be right, and might be wrong, God knows, the same can be said of the other views also, some things is just best guesses, we might not accept it as such, but our views may be nothing else.
Time and more light can change many things, so it is with this openness that I ask each one of yuo to go about this topic, we are not gods, but men, nothing else, if only people would believe it, humbleness of heart is what matters in the sight of God.
"Who humbleth himself to behold the things
that are in heaven, and in the earth"
Psalm 113.6
Welcome to my page, Maaseh Beréshith l'fi Ole, the creation according to Ole

---
---
Augustine wrote in his Confessions that which was commonly believed in his day.
"Chapter VIII—Heaven and Earth were made "In the beginning;" afterwards the world, during six days, from shapeless matter.
For very wonderful is this corporeal heaven; of which firmament between water and water, the second day, after the creation of light, Thou saidst, Let it be made, and it was made. Which firmament Thou calledst heaven; the heaven, that is, to this earth and sea, which Thou madest the third day, by giving a visible figure to the formless matter, which Thou madest before all days. For already hadst Thou made both an heaven, before all days; but that was the heaven of this heaven; because In the beginning Thou hadst made heaven and earth. But this same earth which Thou madest was formless matter, because it was invisible and without form, and darkness was upon the deep…"
---
New addition



I am in the process of starting to design, reformat the whole site. Most of the changes will not be seen by you in the first, but it will help me in the long run to give the whole site a new feel to it.

When I have reformated the articles, made the design change, my own articles, that are now in danish, will be translated.

All this might take 3 months to ½ a year, that is the time frame I will give it all, might be sooner, hopefully.

Latest articles:



Earth's Earliest Ages

This classic work examines the biblical evidence for a postcreation catastrophe and destruction of the earth and a subsequent recreation.

Thise links works now, sorry
FOREWORD
PREFACE TO THIRD EDITION
AUTHOR'S PREFACE TO FIRST EDITION
THE CREATION
THE INTERVAL
THE SIX DAYS
THE CREATION OF MAN
THE FALL OF MAN
THE TRIAL AND SENTENCE